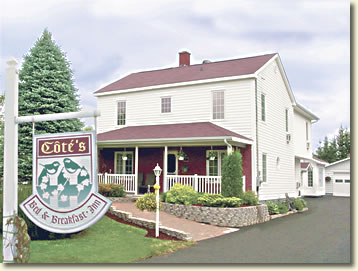 At our 4 1/2 star Bed & Breakfast - Inn, you will find the warmth and sense of well-being you have been looking for.

We pride ourselves on making your stay with us as memorable and enjoyable as possible.

A new momunent to Triple Crown winners Ron Turcotte and Secretariat, and Grand Falls, both in our downtown.
I am a founding member of Char-Ma Rescue, a local organisation to rescue and find homes for abandoned cats and dogs. They sometimes stay with me until they can be resettled.
Find out more about Char-Ma Rescue




Canada Select 4 1/2 star

Member Tourism
Association of New Brunswick

NB B&B
Association

Town of
Grand Falls

Côté Bed & Breakfast - Inn, Grand Falls New Brunswick 1-877-444-2683 (toll-free)
© all rights reserved

Pancrhoma Web site design
New Brunswick Canada